Wharves of Bristol and Norway Bay
Supplied by the Norway Bay Historical Society
In the 1800's Bristol had two docks, one at the end of the Bristol Road and one in Danny's Bay - now called Haughton's Bay.
In 1850 John MacIntosh(Bailey Farm) owned the property from the Ottawa River to the Second Line and from White Avenue to Norway Avenue. Mr. MacIntosh built a wharf and boathouse on the Ottawa River at River Road and Norway Avenue. The boathouse is now the cottage of Donald and Susan Page (E.06), known as Tumble Inn.
In 1896 the Horse Ferry docked between Dodds and Black Streets. Where the Hawkin (I.37) and the Huck (I.19) cottages are located. There is a rock on the shore with a large ring in it that was used to tie up the ferry.
In July 1909 the Norway Belle landed at a temporary wharf at Morrison's Island located west of the present wharf in front of the York (J.38) cottage in the small bay. The Norway Belle landed at the Norway Bay wharf from 1914 until 1922 when the ferry was taken out of service. There was a cottage on the island which was given to Jim McCredie (McCredie Farm) to move. In 1935 Mr. McCredie used horses to move the cottage across the ice and up Dodds Street. It is now owned by Brian Huck (I.42).
1908 the federal government called for tenders to build the Norway Bay Wharf at the end of Cutherburtson Street now the Wharf Road.
In 1913 the wharf was completed and maintained by the Department of Public Works.
Norway Bay Wharf circa 1914 Norway Bay Historical Society
From 1923 to 1963 the ferry, Norvic, landed at the Norway Bay Wharf. The ferry was sold in 1963. Mr. Gamble who owned the ferry paid the wharfage fees charged each year by the federal government.
Norway Bay Wharf circa 1940's Norway Bay Historical Society
In 1988 the Bristol Township bought the wharf from the federal government and landscaped it with trees, flowers, benches, and a brick walk. The wharf is still used for regattas, swimming lessons, and a boat launch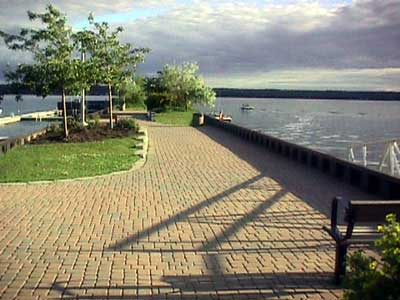 Norway Bay Wharf today. © Andre Ledoux
**For more historical archival information on the wharves and local history, please contact the Norway Bay Historical Society.